For most people, buying a house will be the largest purchase they ever make. After all the forms are completed and the realtor hands you the keys, it is easy to relax a bit. The hard part is over. You are now a homeowner. Congratulations are in order. Unfortunately, as you will soon find out, the real work has just begun. In this blog post, we highlight home safety and the ways Response Crew helps customers in the Phoenix area.
What are the things Response Crew does to make homes safe?
A Response Crew Handyman Can Help
Anchor furniture to prevent tip-overs on children. IKEA recently recalled over 27 million dressers and chests due to tip-over concerns. This is a simple thing that can save lives. We recommend doing it for all furniture over 20 inches high.
Install smoke alarms and carbon monoxide alarms in the proper locations. Having smoke and carbon monoxide alarms in your house is not enough. You need them installed in the best locations to warn you of danger. We can also get those batteries changed, even alarms in hard to reach places.
Change air conditioner filters. The Phoenix valley is hot and air conditioning is a must. A clogged A/C filter reduces air flow. When an air conditioner does not get proper air flow, it causes allergens, dust, and mold to form in the ducts. For older people and children, this can lead to serious medical issues, including asthma.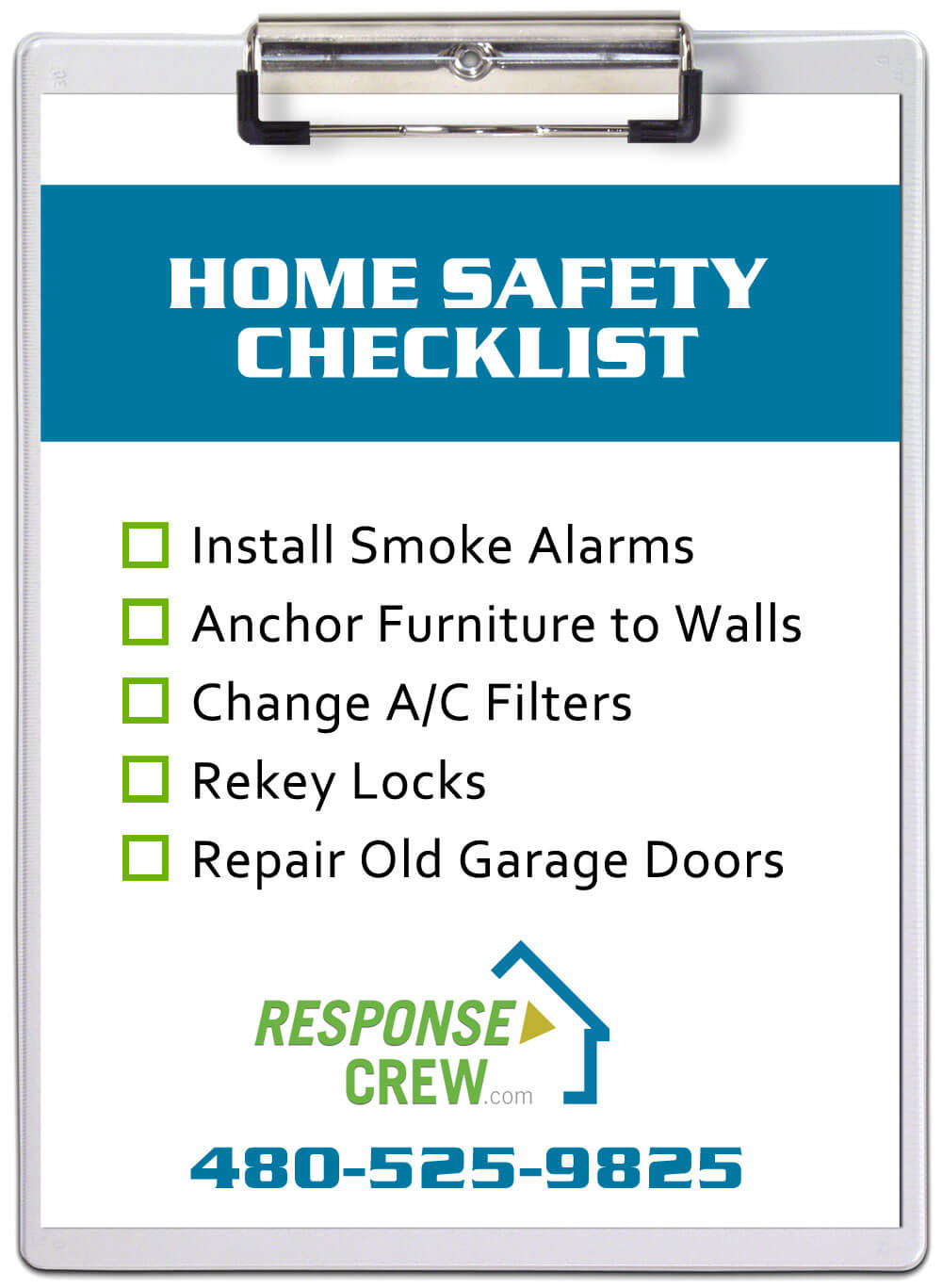 Rekey or Change House Locks
Do you know how many keys to your house might be floating around? New homeowners will take the word of the realtor that their house locks were rekeyed. Did you ever see paperwork to prove it? Was it completed by an experienced and trusted locksmith company? Rekeying house locks is a basic service for Response Crew. It will not cost you much, and afterwards you know for sure that you have the only keys that will open the doors.
How about the quality of your house locks? Are they a good brand like Schlage or a knock-off from China? Even if you live in a nice community in Scottsdale or Paradise Valley, you still want to protect your house with quality door locks. Spending a little extra on high-security door locks is worth the investment and peace of mind.
Garage Door Dangers for Children
Anyone who has children knows that your garage quickly becomes a large room to keep their outdoor toys. It is the staging area for outdoor play. A little shade for the kids when they are playing in the driveway or yard. The garage does not seem like a dangerous spot for kids, but it actually does pose the potential for major injuries or even death.
In the mid-90s, the Consumer Product Safety Commission discovered that automatic garage door openers were leading to major brain injuries and even death for some children. The cause was related to sensors on the bottom of the doors. They were designed to stop the door from closing, if it encountered resistance on the way down. The sensors were not always working. As a result, children were dying or suffering major brain injuries.
You might think something discovered 20 years ago is no longer a risk, but it is. Homeowners do not think much about their garage doors, unless it stops working. Even when they stop working, they often are not replaced with newer models. It is more cost effective for homeowners to opt for repair. This means there are still many garage doors out there in the Phoenix valley with malfunctioning sensors.
If you have an older garage door, let Response Crew come out and take a look at it. We can inspect the system for any issues. Even if you do not have an automatic garage door, there are other ways an old unit can fail and cause damage or injuries. A garage door is only as strong as the sum of its parts, and one broken part can lead to all sorts of bigger problems.