We've all heard the term Child Proofing, but what does that mean? As a father of 3 kids, I can honestly say that it is a miracle they made it so far without any major hospital stay or even killing each other. 
We have many dangers around us, If you have a private pool, you know (or should know) that 77% of drownings are kids under the age of 5. Doors leading to the pool area should have a child lock, high to reach, hard to use for a young kid and or needs two hands to open at the same time.  It is also recommended that your pool have a fence or cover preventing kids from entering on there own.  
I installed this at my house, you can find this and many products like it on Amazon. Work great, easy to install and easy to remove once your kids have grown. Will not leave any damage to the door.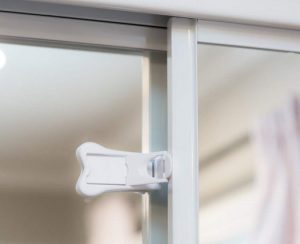 Things you might miss around the house and your kids rooms
My kids love playing with "Monies" pennies and dimes they find around the house. Stuff that they can put in their mouth like coins can be a choking hazard. 
When my boy was around 3 years old he took a small piece of Lego and put it up his nose, he came to us (my wife and I) and said that he has a headache, I saw that something looked different about his nose and by luck he was able to blow it out. (saved a trip to urgent care).
Look around the room, what can they touch?
(Kids rational) Outlet on the wall, I need to stick something in it, right? 
You can buy on Amazon or Target outlet covers, you plug them in, they are pretty hard to remove and keeps the kids from electrocuting themselves or burning down the house. Check out this product on Amazon
What else?
All of my kids loved to climb on furniture, jump on the couch and climb up the kitchen cabinet drawers. In the bedroom, they climb on the dresser and bookcase. The issue is that dressers and bookcases are free standing furniture unlike your kitchen cabinets that are mounted to the wall and secure with heavy items like countertops. 
How do I protect that?
Easy, tell your kids not to climb on the furniture! If only that worked. But the danger is real, your 30+ pound 3 year old is heavy enough to tip over the dresser or bookcase. Picture this, he/she is climbing on the bookcase, it falls forward with your baby underneath it.  All of the weight can harm the child, even cause death!. 
Most furniture manufacturers include mounting hardware and even warnings about child safety but still most parents don't mount the furniture! They might think its to hard to do or that its not that dangerous. The sad part is that the process takes under 5 minutes. 
It only takes 5 minutes to save your child's life.  
I bet you that if you knew that securing the dresser to the wall only adds 2 minutes to the project, all parents would do it. Better yet, if you knew the risk you're taking by not doing so you would call a professional like Response Crew Handyman to mount and secure the dressers in your kids rooms. So, don't wait, contact a pro, call us so that we can help protect your kids. You can reach us M-F 8am -4pm at 480-525-9825